How to make a cheap and tasty Burger
I never thought I would ever write a recipe, say alone one on how to make a cheap and tasty Burger recipe. However his one was so good I thought I might share it. Basically it's just a list of ingredients and you just need to stack them on top of each other and that's basically it. The secret is to just get top quality ingredients.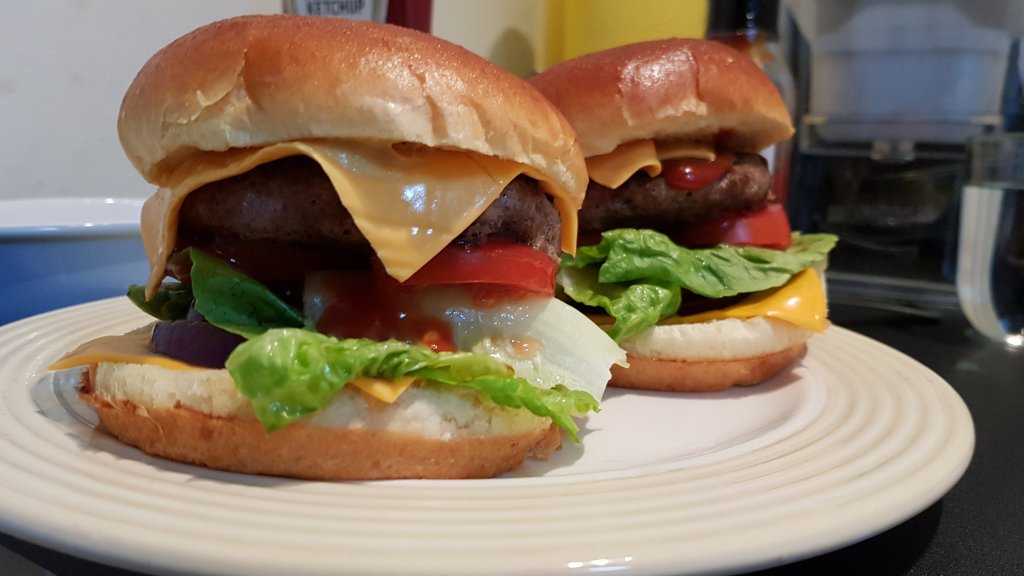 The ingredients you need and where to buy them from:
Iceland (The store, not the country) Brioche Burger Buns. Never underestimate the value of a good bun. Bland ones can ruin the taste of the whole burger. (pack of 4, ca. 1.00 quid)
Iceland 100% British Beef Quarter Pounders 454g or Iceland Luxury 4 Aberdeen Angus Quarter Pounders 454g. (pack of 4, both 2.00 quid) 
Tesco Dijon Mustard 185g @ £0.55
Tesco Tomato Ketchup 320g @ £0.55
Tesco Little Gem Lettuce Twin Pack @ £0.85 
Tesco Tomatoes On The Vine Loose ca. £0.18 each. You can compromise and buy the cheap, tasteless, watery salad tomatoes but it will make the burger less tasty. I tried that.
1 Tesco Red Onions Loose each ca. £0.18 
Tesco British Mature Cheddar Cheese 10 Slices, 250g @ £2.00. Why it is difficult to find the type of soft cheese that melts (e.g. the one McDonalds uses) in the UK is beyond my understanding but cheddar is also fine 🙂
Tesco Top Down Squeezy Barbecue Sauce 480g, £1.00 Optional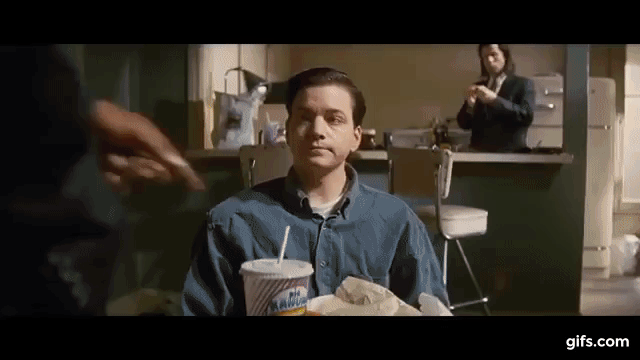 [easyazon_link keywords="pulp fiction" locale="UK" tag="persowebsi0c-21″]Amazon: Pulp Fiction[/easyazon_link]
Big Kahuna Burger Ingredients
Using this scene from Pulp Fiction without mentioning Quentin Tarantino's famous Big Kahuna Burger which is a fictional Hawaiian fast food place in some of his movies would be a big omission. However, according to Wikipedia the sandwich consists of:
an ordinary beef burger
with cheese,
lettuce,
and tomato
on a plain hamburger bun
which sounds less fancy than what you would have imagined. Also, this scene doesn't show any lettuce and tomato. The red stuff looks more like ketchup to me.
Kahuna is a Hawaiian word which can mean a man who is an expert in a profession. So while the burger looks rather simple it could be crafted so well that it fully justifies Samuel L. Jackson's remark "Mmh .. this IS a tasty burger." when he takes a bite. Guess we have trust him.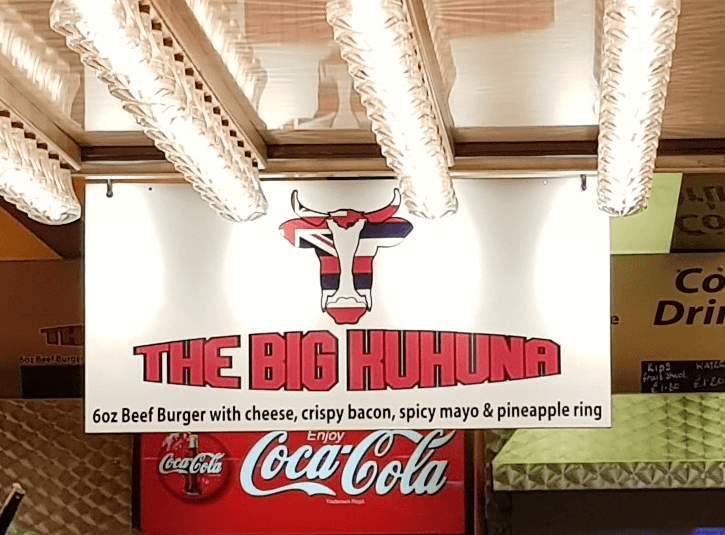 Although there is no official comment by Tarantino what goes into the sandwich there have been many adaptations. In this pic you can see another more localised variation:
beef burger
cheese
crispy bacon
spice mayo
sliced pineapple ring
I just had throw this in since I was curious what the Big Kahuna Burger was about.
Let's make a cheap and tasty burger:
Fry the beef for ca. 8 min on each side on medium heat with a little oil.
Slightly toast the buns in the oven or toaster. Time it with your meat.
Slice onions and tomatoes. Caramelise them if you prefer.
Peel off 2 leafs from the lettuce. Be sure your salad stuff is relatively dry after washing or you'll get a soggy burger.
Before taking the buns out of the oven put 1 or 2 slices of cheese on them so that they melt a bit.
Blend the tomato ketchup with the barbecue sauce. Keep the mustard ready.
Stack everything on top of each other however you like. Be careful with the Dijon Mustard it is very potent and only use very little of it.
Cooking time: 15 min only
I have experimented with a lot of premium brands like Heinz Ketchup but they are just not worth it in terms of value for money and store brands are in most cases just as good as the others.
What do you think about the 'recipe'? Let me know in the comments below.
Cheap and tasty burger cost break down
| Groceries | Price each in £ |
| --- | --- |
| Brioche Burger Bun | 0.25 |
| Quarter Pounder | 0.50 |
| Dijon Mustard | 0.05 |
| Tomato Ketchup | 0.05 |
| Lettuce | 0.05 |
| Tomato | 0.18 |
| Red Onion | 0.18 |
| Cheddar | 0.20 |
| Barbecue Sauce | 0.05 |
| total | £1.56 |